Owner/Chief Executive Officer
Joe began his in-home sales career selling residential solar systems in the greater Los Angeles area of California. In 1986, he transitioned to the in-home selling of home improvement products; windows, doors, siding, and roofing. In 1993, he started this company – American Design and Build, Ltd. that has been ranked as one of the Top 500 remodeling companies in the country. 2009 was the rebirth of residential solar and we established our solar division – American Sentry Solar. As owner and CEO, Joe is immersed in the overseeing of the day-to-day activities of the company and the monitoring of company performance as we strive for continued success. Joe's vision for the company is one grounded in integrity, community and efficiency that he expects in every department.

Chief Operations Officer
Donna brings over 20 years of extensive experience in strategic planning, financial controls, operations management and business growth. Her expertise and leadership in the areas of Finance, Human Resources, Risk Management and Administrative Operations ensure the accounting and administrative departments operate at the highest level of integrity and work efficiently and effectively to support all employees. She leads the ongoing development of financial expansion and operational strategy ensuring financial stability during growth and integrity and compliance to key strategy metrics, system controls and legal regulations. Since joining American Design and Build/American Sentry Solar in 2011, she has brought vitality, professionalism and warmth with strong service qualities that demonstrate her deep commitment to building long-term trusting relationships with employees at all levels.
Production Manager
Chris brings 12 years of home improvement experience to the American Design and Build team. As Production Manager, Chris oversees our installation crews and all ordering of products and materials used in installs. Chris also communicates with our customers, explaining the home improvement process and answering any questions the homeowners may have. He fervently believes that "you could have the best material on the planet, but if it's not installed correctly it will never work right." Because of this, Chris ensures the installation quality of all our installs, and follows up with any warranty work should the homeowner ever need it.
VP of Outbound Marketing
As our VP of Outbound Marketing, Tony oversees multiple aspects of our marketing initiatives. His day to day duties include managing our call center, recruiting & training new team members, and writing call scripts that better streamline our appointment process. A big believer in self-improvement, Tony holds weekly meetings with his staff to aid in their personal growth with the company. He also manages the company's show schedule, community outreach initiatives, company events, and field marketing teams. When not working Tony enjoys golfing and spending time with his family.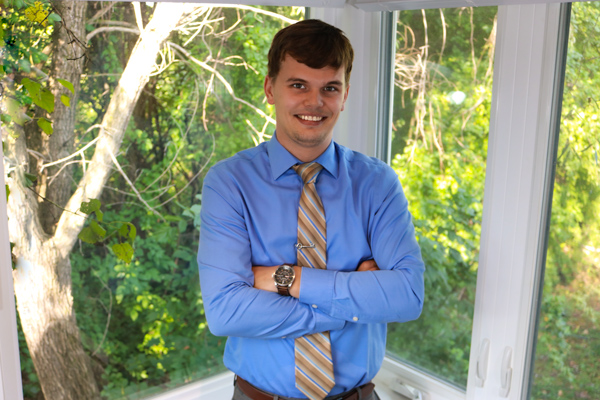 Digital Marketing Manager
As our Digital Marketing Manager, Mason handles all things digital and website related. His daily duties include helping to increase traffic and awareness through a variety of platforms, assist with CRM functions, assist in managing our social media platforms, and other marketing related tasks. He proudly carries a Lean Six Sigma Green Belt certification, along with advanced certifications in Google Analytics, Google Ads and Microsoft Advertising. When not working Mason enjoys hanging out with his two cats and playing frisbee with his dog. He also enjoys spending time in nature, and dislikes litter bugs. He graduated from Shippensburg University with a Bachelor's in Marketing & Management and spent the past 8 years honing his skill set in the marketing field.
Director of Sales Administration
Heather is the Director of Sales Administration at American Design and Build. Her daily duties include processing all newly sold jobs and monitoring all customer payments and financing requests. She ensures that all paperwork is completed before each project, guaranteeing the homeowner's experience with the company goes smoothly. When asked what she enjoyed most about working for American Design and Build, Heather stated that she could not just pick one thing! She genuinely enjoys working with the team, and she loves working for a company that puts the homeowner first. She also mans the company candy drawer, so she's a fan favorite at our office!
Accounting Coordinator
As Accounting Coordinator, Nate is responsible for managing all accounts receivable & payable, as well as reconciling accounts and occasionally assisting with other company finances, including payroll. Nate is currently enrolled at the University of Baltimore and is actively pursuing his bachelor's degree in accounting. He aspires to complete his master's degree prior to sitting for his CPA certification. In his spare time Nate enjoys playing and coaching soccer.
Administrative Coordinator
Katie brings over 10 years of administrative experience to her role as Administrative Coordinator. Her duties include managing the corporate administrative assistants, assisting with fleet and facilities management, performing office inventory checks, and managing our phone system. Katie also assists in company-wide event planning, and is responsible of ensuring all of our sales representatives are properly licensed and insured. When not in the office, you can find Katie spending time with her daughter.
Home Improvement Coordinator
New to the team as of June 2021, Kelly is a crucial addition to American Design and Build. As Home Improvement Coordinator her duties include communicating with our customers about installation and service dates, managing service requests, and monitoring all current contracts to ensure everything is as it should be. Her bubbly personality and diligent work ethic help to keep our service teams and our customers "as happy as clams!" When asked what she enjoys most about working for American Design and Build, Kelly said that the "friendliness of the people here" is her favorite thing! On her days off you can find Kelly hiking through nature or knocking down pins at the bowling alley.
Assistant Project Manager
Jim brings over 7 years of project management experience to our home improvement team. He assists in overseeing our installation crews, as well as the ordering of products and materials. Jim has an acute eye of detail, and always strives to complete our customers' projects quickly, efficiently, and correctly. A true team player, he is not afraid to roll up his own sleeves in order to get the job done. Jim grew up in Bel Air, is an avid fan of the outdoors, and is a big fitness enthusiast!