Get your FREE in home or virtual estimate!
Get your FREE in home or virtual estimate today!
Generations of Trust
Since 1993 American Design and Build has been bringing feelings of family, professionalism and trust to our customers and community. Specializing in exterior remodeling, we pride ourselves in being able to offer quality products, professional installation and fair prices to homeowners in our community.
Whether you're in need of an entry door or a new roof, we are here to help. Our team will work with you to ensure your home improvement project properly meets your needs and style, without breaking the budget. We have been recognized as a Better Business Bureau Torch Award Winner, an Owens Corning Platinum Preferred Roofing Contractor, as well as one of the Top 500 Remodelers in the country by Qualified Remodeler Magazine.
"It's all about trust and I think that's where we really shine. We have grandparents referring us to their grandchildren, children referring us to their parents. It's all about trusting their decision and what they have come to know and expect from American Design and Build. We're here for you today, we're going to be there when you need us for years to come." – Joseph A. Tunney, President of American Design & Build, Ltd.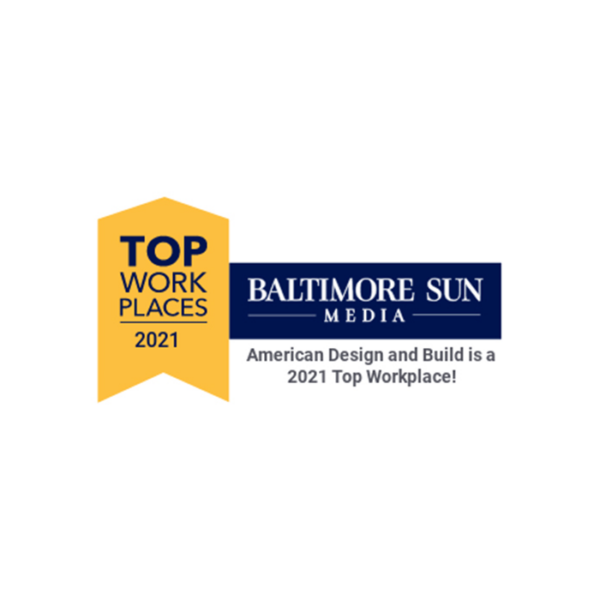 See What Homeowners are Saying About American Design and Build!
"The entire team at American Design and Build was communicative, efficient, responsive, professional, and personally committed to doing the best job for us. We would recommend them to anyone!!"
"Professional and high quality workmanship. We had roof, siding, windows, gutters, and doors done. Extremely pleased with finished product."
"The work was done in one day. The clean up was excellent. They left everything as they found it. I am in love with my new front door. It changed the whole look of the house."
"We're just happy customers. They did a really nice job."
"10 out of 10! I would absolutely recommend."
"I can not say enough good things about American Design and Build! I would not go with anyone else! They always get the job done!"
" I feel that American Design and Build does extremely excellent work. I have used them for many projects in my house, and I have been very satisfied."
"I was very satisfied with the sales and installation staff from American Design and Build. They did a clean and neat job. They were very professional, and finished within the time frame promised."
"American Design and Build did an outstanding job. They worked very closely with us. Their workmanship is great and the workers were considerate. The schedule worked well with ours. I can't say enough good things about American Design and Build."
"Very professional organization. I would highly recommend this company to my friends."